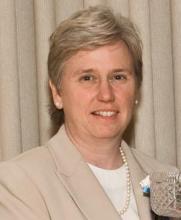 Sports opportunities for girls were limited when Candy was growing up in Torrington in the early 70's. She played softball in the park and recreation Pigtail League and in intramural "six on six" basketball games. When volleyball was added as the first girls' high school sport during her junior year, Candy was given the task of reading the rule book (how prophetic) and helping to organize the team. Torrington soon added girls' teams in softball and basketball to their athletic program. Candy was a three-sport athlete by her senior year.
After graduating from high school, Candy pursued a degree in Physical Education at SCSC, which, at the time was the premiere state college for women's sports. It was during her sophomore year at Southern that Candy began officiating volleyball. She officiated in the New Haven area during her collegiate years both at the high school and college level. After graduating from Southern in '79, Candy accepted a teaching and coaching position at Canton High School and volleyball coaching position at her alma mater, Torrington High.  She coached the Torrington varsity volleyball team for two years.  She they returned to officiating on a full time basis.
Candy officiated at many of the schools in the northwestern part of the state. She had the privilege of officiating at some of the top schools at the time- Bristol Eastern, Holy Cross, Gilbert, Avon, Lewis Mills, Cheshire, and Naugatuck- and credits many of the coaches at those schools with making her a better official. As a member of the Connecticut Board of Volleyball Officials, Candy became the chairperson of the Board from 1980-92 and then again in '95. She continues to serve as the scheduling coordinator for 30 schools in the northwestern part of the state, a position she has held since 1980. She has been involved in training and rating new officials, writing the CBVO's original officials' manual, and along with Barbara Startup, worked over time with the CIAC in officials' contract negotiations and the new CAIO.
In 2000, Candy was inducted into the Torrington High School Athletic Hall of Fame and in '06 she was named Connecticut Athletic Director of the Year by the National Assoc. for Sport and Physical Education.  In 2007, she received the Merit Award from the CIAC Girls' Basketball Committee and in 2008 she was inducted into the Connecticut Women's Basketball Hall of fame.
Candy is currently the principal of Northwestern Regional Middle School in Winsted and serves as Selectman in Winsted.