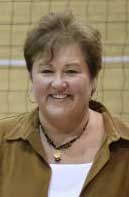 Cindy attended Southern Connecticut State University where she played volleyball for Lou Albrecht and Joan Barbarich. A savvy outside hitter for the Owls, she played in two AIAW tournaments and was captain of the squad in her senior year.
In 1979 she took over the program at Maloney High School in Meriden. Stepping into such a well-known and successful program could've been a daunting task to some, but Cindy was more than up to it. During her seven year tenure from 1979 to 1985 she and her teams amassed an amazing record of 147 wins and 11 losses including four undefeated seasons (1979, 80, 81 and 84). Under Cindy's guidance Maloney won the C IAC State Class L Championship (they played up in class) in 1979 and 84 and they were runner-up in 1985. In 1981 Maloney was part of the longest high school winning streak in the United States. Cindy also produced many outstanding players, among them all-staters Bonnie Kenny, Kim Sokel and Anne Marie Larese. There were also numerous all-league awards and league titles.
After leaving Maloney, Cindy worked with the US Volleyball Junior Olympic Program for five years coaching the Connecticut team at numerous national qualifiers. She coached and trained some of the top players to come out of Connecticut. Cindy is now in her 20th season as an intercollegiate head coach. In 1986 she was hired at Clarion University of Pennsylvania. In her four years there she led the team to a 96- 42 record and the school's first-ever conference title in 1988. She was the AV CA coach of the year in the Atlantic region and Pennsylvania State Athletic Conference Coach of the Year.
In 1990 Cindy arrived at Bucknell University and has transformed Bison volleyball into one of the top programs in the East. They were recognized as the most improved team in the nation by Volleyball Monthly in 1993; recorded the best record in school history in 1995 at 26-7; won the first-ever Patriot League automatic bid to the 1998 NCAA tournament; and in 2003 posted a school record 11 Patriot League wins en route to a second-place finish. Bucknell has won four of the last 11 Patriot League regular-season titles under a plastic Cindy. Cindy one of her 300th career match in 2004 and she has been named the Patriot League coach of the year three times: 1997, 2000 and 2003.