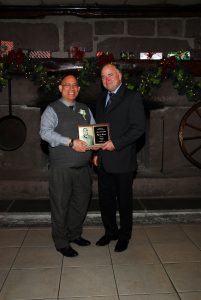 Tyrone Fuertes first played on the 8th grade volleyball team at Holy Cross in Dewitt, NY coached by Sister Michael Joseph. In high school at New Hartford Central, since there was not a boys' volleyball program, Tyrone only played in gym class. In 1986 he received his Bachelor's degree in Music Performance from the Manhattan School of music. He was so focused in that field that there was no time to play volleyball or any sports unless he was free by chance. Years later he was working on his Master's degree in Music at the University of Connecticut in the 1990's, it was at UCONN where he got involved with intramurals and the opportunity to try out and play for the Men's Club Volleyball team from 1996-1998. It was also during that period that Tyrone had the opportunity to work and play for the future CWVBHF inductee, Jung Park, as an older graduate student. Tyrone got involved as an official in soccer, flag football, basketball and volleyball for UCONN recreational services.
In 1997 he would work on his USA Volleyball certification and receive his Provisional rating during the 1999-2000 season for the New England Region. It was also in 2000 he would receive his certification in High School Federation for the Connecticut Board of Volleyball Officials Northern Board. In 2002, he was asked to join the college board in the CT/RI area. In 2003-2004 he received his certification as a Line Judge and Scorekeeping for Professional Association of Volleyball Officials. As he gradually was moving up the ranks, he received his Regional Rating in 2005 for New England. In 2007 he received his State rating for PAVO. In 2009 he received his PAVO National LJ certification. In 2010 he received his Jr. National Rating for USAV. In 2013 he received his National Scorekeeping rating for USA Volleyball. From 2006-2017 he was the head trainer in charge of training new officials for the CBVO Northern Board. From 2013 to the present he is the Scorekeeping chair for the New England region.
He is among an elite group of officials to work the CIAC State Tournament Finals for both the Girls and Boys as either the Referee, Line Judge or Scorekeeper. For the NCAA as a Line Judge and Scorekeeper he has worked 7 Div. I Women's Conference Finals, 9 Div. II Women's Regional Finals, 4 Div. III Women's Regional Finals, and 3 Men's Div. III Final Fours. For the NCAA as an official he has worked the Great Northeast Athletic Conference, Central Atlantic Collegiate Conference, New England Women's & Men's Athletic Conference tournaments as well as the championship for the Massachusetts State Collegiate Athletic Conference. For USA Volleyball he has worked championships for both the Girls and Boys National Tournaments as either the Referee, Line Judge, Scorekeeper and the Assistant Scorekeeper. Tyrone currently works for the University of Hartford Athletic Department as the Director of Intramurals. This is a position he has held since Sept 11, 2001. Tyrone while working for the University of Hartford, also received his Master's degree in Business Administration in 2012.