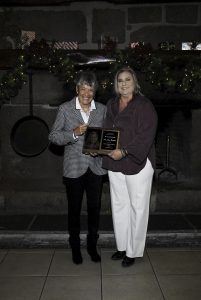 Ann Marie Bahantka is a graduate of Horseheads High School, and she lettered in volleyball, basketball, softball and track. She represented Central New York Region at three Empire State Games before attending college where she played for the University of New Haven under legendary head coach Debbie Chin!
Ann Marie Bahantka was a key contributor to three New Haven women's volleyball teams that reached the NCAA postseason, including trips to the Elite Eight in both 1985 and 1988.

Highlighting her junior campaign, Bahantka led the 1987 Chargers in kills (253), hitting percentage (.257) and assists (680). The following year as a senior, she led the Blue and Gold in kills, assists, digs and blocks en route to a 44-6 record and Most Valuable Player honors at the NCAA Regionals. A four-year starter, she earned All-New England Collegiate Conference honors three times and a pair of AVCA All-Region nods.

The Chargers went 141-38 during Bahantka's four-year career with four NECC Championships. She finished her career with 1,515 assists, 704 kills, 519 digs and 205 blocks.

After graduation, she took over as head coach of Quinnipiac University and led the team to a then-record 32 wins as well as the Northeast-10 regular season and tournament championships. In 1992, she was chosen as the Northeast-10 Conference Coach of the Year. During her five-year tenure at QU she accumulated over 115 wins.
She has been inducted into the Horsehead's High School Hall of Fame as well as the University of New Haven Hall of Fame.
I never intended to coach (Debbie Chin made me do it) but I was grateful to have the opportunity to give back. Some of my favorite moments were in Costa Rica, Barbados, St Thomas, New Haven middle schools and throughout the Northeast running and participating in clinics to promote Volleyball. I loved practice, training and teaching possibly more than the matches.

Ann Marie's biggest influence was International Volleyball Hall of Famer, Debbie Green. "She was the reason I wanted to be a setter! She wasn't the biggest but she led our Olympic teams with poise, dignity and a fierce competitiveness. My greatest moment was meeting her at the national championships (thank you Fran Vandermeer). She was just as classy if not more in person."
Ann Marie is the co-owner of The Photography Bar and Executive Director of Production Services for Overabove in Chester, CT. She resides in Manchester, New Hampshire with her partner Holly and their canine son Franklin.