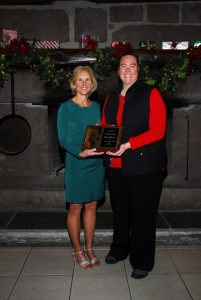 While attending Seymour High School in the late 70s, Cathy played the two standard high school sports for girls at the time, basketball and softball. Seymour was a small school with a yearly turnover of coaches interested in girls' athletics. Most seasons, teams were lucky to win 4 or 5 of the 16 games played, which never sat well with Cathy, as she always hated to lose at anything.
Not long after Cathy received her finance degree from Quinnipiac College, she got married, had three sons, and started a career in business. After twelve years in the business world, she decided to return to Seymour and pursue her passion for teaching. In addition to teaching, Cathy wanted to coach. Unfortunately, with both the basketball and softball programs flourishing at Seymour, no coaching positions were available.
In the summer of 1999, she received a call from a parent, asking her to coach the volleyball team. Cathy politely declined, as she had no previous experience with volleyball, other than playing in a rec league and backyard picnics. Then, two weeks before the start of the school year, Cathy received another call letting her know that the volleyball program was going to be dropped if they couldn't find a coach. Cathy agreed to take the position.
Over the next two weeks, Cathy grabbed every book and video the local libraries had available, and began her quest to learn the game of volleyball. She put her faith in the well-known quote from Theodore Roosevelt, "People don't care how much you know until they know how much you care".
On the day before the first season began, Seymour's head football coach, Paul Sponheimer came to see her. He was pleased she was taking over "The cupcake squad". According to Paul, the volleyball girls were more interested in eating cupcakes after the games than actually playing volleyball. The comment fired up Cathy's competitive spirit as she vowed to never let that happen under her watch.
Twenty-three seasons later, Cathy is the assistant athletic director at Seymour, teaching 5 math classes a day, coaching, and still trying to learn the game of volleyball. Her cupcake squad has won over 440 matches, garnering 8 league titles, 6 State final appearances, and 3 State titles along the way.
Cathy was named the Connecticut Volleyball Coach of the year and a National Coach of the year finalist in 2022. She was named the New Haven Register Coach of the year three times but is most proud of her team's recognition for receiving the sportsmanship award twice from the Connecticut Volleyball Officials Association.
Cathy credits her parents for her strong work ethic: Work for everything, nothing is easy. Her dad fostered her love of athletics by bringing her to numerous sporting events and playing catch, shooting hoops, and playing games in the yard almost every night.