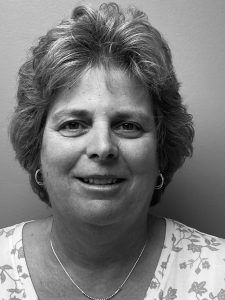 A lifelong resident of Oakville, Sue Bavone graduated from Watertown High School where she played volleyball, softball and basketball until a back injury ended her playing career in her junior year. After graduation, she went on to CCSU, where she earned a BA in Communications. She began her coaching career at her alma mater in 1985, where she coached for 8 seasons (53-92).
After leaving WHS in 1992, Sue decided to pursue a degree in Special Education so she went back to CCSU part-time while working at the Wheeler Clinic's Northwest Village School as an Instructional Assistant for special needs students.
In 1994, Sue was named the head Girls' Volleyball Cheshire High School, where she continues to coach today. Now, in her 27th season, Sue has amassed an impressive 540-98 record at CHS. Her teams have been among the best in the Southern CT Conference and in the state having won 18 Division Titles, and 14 SCC conference titles. (Sue's teams have reached the finals of the SCC tournament an incredible 19 times in 27 seasons). She has also brought teams to 8 Class LL State Finals, winning 4 State Championships ('97, '98, '07, '13).
For her efforts with the girls, she has been named a Coach of the Year by; The New Haven Register ('98,'07, '12, '13, '14, '18) the CT High School Coach of the Year (2003), the Franciscan Life Center Coach of the Year (1999), the Olympia Club Coach of the Year (2001) and The Ct Sports Writers Association (2013), Southern Ct Conference Coach of the Year (2015, 2018), and the Water/Oak Circle of Sports Coach of the Year (2018).
In 1996, Sue earned a BA in Special Education from CCSU and was hired as a Special Education Teacher at Cheshire High. Sue also earned a Master's of Learning Degree from Sacred Heart University in 2000. She is currently a SPED Teacher at Cheshire High.
Sue's greatest pleasure is seeing the positive impact that her programs have had on her players after they have graduated from high school. Her coaching staff for both teams has always been composed of former players and the sheer number that come back to help with camps, clinics or just come to visit, overwhelms her with a great sense of pride and satisfaction and makes all the years of hard work so worth it. Her coaching philosophy is simple…"to instill in my players a love for the game of volleyball, while providing them with a positive atmosphere in which to grow as a player and as a person." Sue has done that countless times over.
Sue is a member of:
The New England Regional Volleyball Association (NERVA)

The Yankee Volleyball Association

The CT High School Coaches Association (CHSCA)

The CT Junior Olympic Volleyball Association (CJVBA)

The American Volleyball Coaches Association (AVCA)

The Massachusetts High School Volleyball Coaches Association (MVCA)