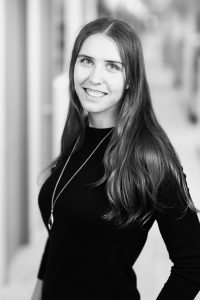 Sarah graduated from RHAM high school in 2014. Playing under Tim Guernsey in both volleyball and basketball where she was a 4-year starter for both teams.
In the four years that Sarah played volleyball at RHAM HS, she contributed to an impressive team overall record of 84-8 and Central Connecticut Conference record of 56-0. As a freshman she won her first CIAC Class M State Championship in 2010 and then as a senior winning a CIAC Class L State Championship 2013. She finished her high school career with 1,271 kills and 2,079 points, respectively.
In addition to her team successes, Sarah was also acknowledged with the following personal accolades:
1st Team CCC East – 2010, 2011, 2012 & 2013
1st Team All-Hartford Courant – 2010, 2011 & 2012
2nd Team All-State – 2011
1st Team All-State – 2012 & 2013
Max Preps Player of the Week – 2012
Under Armour Watch List – 2013
CHSCA Player of the Year – 2013
Hartford Courant Player of the Year – 2013
Class L State Final MVP – 2013
Senior All Star Blue – 2013
Gatorade Player of the Year – 2013
All Academic 2010, 2011, 2012 & 2013
Team Most Improved Player – 2010
Team Most Valuable Player – 2011 & 2013
A gifted two sport athlete, Sarah attended Saint Joseph's University in Philadelphia on a full basketball scholarship. Helping the team to the Atlantic 10 championship game in 2018. She was also twice named the Philly Big 5 Female Scholar Athlete, was the MVP of the 2017/2018 Hawk Classic, and a member of the 2017/2018 Atlantic 10 Conference All-Academic team. At Saint Joseph's, she is ranked second all-time in free throw percentage.
Sarah graduated from Saint Joseph's in 2017 with a BS in both Finance and Accounting where she was named a Sutula Scholar by the accounting department. As a fifth-year senior she earned an MBA in Business Intelligence and Analytics. After graduation Sarah worked for two years in public accounting earning her CPA during that time. She now works for a private equity firm based in Philadelphia.