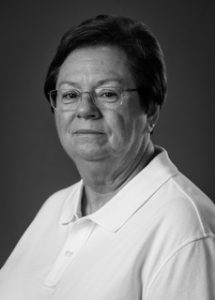 Cathy-Beth's volleyball experience began as a player at West Haven High School. She and her team were finalists in a State Championship game and she was named to the All-State team. She also played at Southern Connecticut State College where she was a four-year starter and played in the National Tournament. She was an assistant coach at Southern in 1975.
Cathy-Beth's career as an official began in 1972 when she worked high school matches as well as men and women's collegiate matches and tournaments. In 2003 and continuing to the present, she has officiated scholastic girls' matches including league and state tournaments and state final matches. She has also officiated boys' volleyball state tournaments including state finals matches. From 2004 to the present, Cathy-Beth has served as a mentor to the Southern Connecticut Officials Board. She is an approved evaluator to assist the trainer, assigner, and official with development and training. She assists with classes and virtually every aspect of officiating enhancement and supports new and veteran officials to grow their skills and learn new ones. Also during that time until 2015, Cathy-Beth served as a trainer for the board as well, recruiting new officials and training them in play situations, conduct, management, control, and professionalism. Her responsibility included conducting clinics for education, evaluation, and certification testing of officials.
Lastly, Cathy- Beth is the rules interpreter for the board. She is responsible for presenting new rules to the Board of Officials annually. She also clarifies the rules and play situations during the season for officials and coaches. As player and coach, Cathy-Beth was preparing to begin her true calling – as an outstanding official at every level.