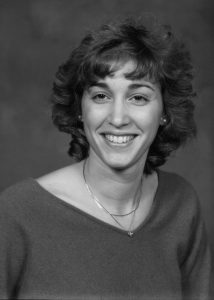 Cathy attended Conard High School in West Hartford, CT, graduating in 1979 with both academic and athletic honors. Cathy played volleyball all four years and was co-captain her senior year, when Conard won their class CCIL division. She was a versatile athlete and was Co-Captain of Conard's only undefeated women's basketball team, winning their division and ultimately the State Class L Championship. She also lettered in softball and track. Her nickname was "Ice D'Apice" because she was so cool under pressure. Although fiercely competitive, she would be the first person to flash a smile on the court or give a hand to help a competitor off the floor.
Cathy attended Ithaca College, where she continued her volleyball career playing for Coach Dr. Sara Rich from 1979-1982. She was a four-year starter, and was named Captain her junior and senior years. Selected to New York All-State Women's Volleyball First Team, Cathy also received the organization's Most Valuable Player award. In 1983, she was named to the 1983 "Who's Who Among Students in American Universities and Colleges". Cathy loved the sport so much that in the off-season she coached and captained her intramural volleyball team. Cathy graduated a Dean's List student in 1983, earning a BS in Business and Finance. The Ithaca Volleyball program now has an annual award in Cathy's memory given to "the senior team member who is an outstanding student, team leader, and positive role model on and off the court".
After graduation, Cathy continued to compete in area USVBA tournaments and was a member of the New London Volleyball Club that won the New England Women's Open Division Regional Championship in 1988… this, one year after her diagnosis of breast cancer. She was 25 years old. Over the next several years, she continued to play in doubles tournaments along the East Coast, as well as playing in the inaugural Nutmeg State Games in 1989, and again in 1990, where she received the "Athlete of the Year" across all women's sports at that year's games. Cathy accomplished all this while undergoing continued treatment for breast cancer.Cathy died a year later, on September 17, 1991, a few days before her 30th birthday.
Beginning in the spring of 1996, the first annual Cathy D'Apice Memorial Volleyball Tournament was held, raising money for CT-based breast cancer research, under the leadership of Volleyball Hall of Fame member, Fran Vandermeer. The tourney featured a mix of collegiate Division I, II, and III women's teams, along with several club teams. Participants raised over $100,000 in 20 years of play. There is now an annual research grant given in Cathy's name by the Connecticut Breast Health Initiative.Cathy is loved and missed by so many.