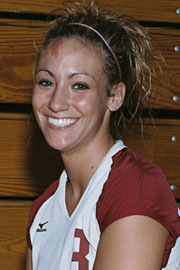 Leah Hettrick graduated from Maloney High School in Meriden in 2002. In her senior year her team was undefeated state champions. Leah was named to the First Team All-State team and the Connecticut Gatorade Player of the Year.
After graduating, she played at Springfield College from 2003-07. In her first year she was named Rookie of the year. In her second year, she was named to the First Team All-Conference and was voted Springfield College 's Volleyball Player of the Year and most Outstanding Female Athlete for team sports.
As a junior, Leah was again voted most outstanding player and female athlete. She also set three school records: digs per match, digs per game in a season and digs per game for a career. She was also named to the All-New England Region Team.
As a senior, she set the final record for digs in a career. She was named to the All-Tournament Team in two of their largest tournaments. She was named not only to the All-New England second team, but to the American Volleyball Coaches Assoc. as honorable mention All-American.
Throughout her volleyball career at Springfield College, Leah was recognized more than 20 times as an out-standing collegiate player.