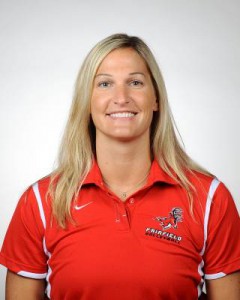 Sarah arrived at Bunnell High School in 1994. She was a dedicated basketball and softball player planning to play a sport in the fall to stay in shape. She decided to try volleyball. At tryouts the first test of the day was arm strength, and when Sarah threw the ball from the service line to the back wall of the gym, Coach Dave Jockle took notice. He not only picked her for the team, he put her on varsity.
Sarah took to this new sport, quickly developing into one of the top players in the state. She has earned honors not only from her high school and state, but she has also earned national recognition. Sarah holds the following Bunnell team records: 521 single-season and 1584 career kills; 174 single-season and 500 career aces; 288 single-season and 723 career digs. In 1994, she was named to the all-conference team and selected all-area by the Connecticut Post and the New Haven Register. Remember she was a freshman and had only played one season of volleyball. In fact Sarah was named all-conference and all-area four years in a row! In 1996 and 97 she was selected in the Connecticut Post and the New Haven Register as the Volleyball Player of the Year. She was also the New Haven Register Female Athlete of the Year in 1997.
Sarah also earned national recognition. She is listed in the National High School Sports Record Book (2006). She is ranked sixth and seventh for all-time kills in a match with 43 in 1996 and 41 in 1997. She is ranked fourth all-time for service aces in a career and she is ranked sixth all-time for service aces in a match (17 in 1997). With Sarah's help Bunnell made it to two state finals and in 1997 they defeated Darien in the tournament, handing them their first loss in five years. Sarah was named to the first team all-state three years in a row, 1995, '96, and '97. She was a Gatorade Player of the Year in Connecticut in 1996 and 1997 and she was a Gatorade Player of the Year in New England in 1997.
After graduating from Bunnell, Sarah played volleyball at Providence College and continued her winning ways. She was a four-year starter at the outside hitter position. She was named to the Big East all-rookie team in 1998 and the All-Big East team in 1999 and 2001. She holds the all-time Providence College records for career kills, digs and attacks.