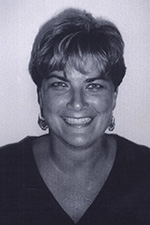 Bethany attended Branford High School from 1980-84 and left a legacy that is remarkable. She was an academic and athletic standout excelling in volleyball, basketball and softball.  Though only a freshman, she found herself pressed into service on the varsity due to injuries to other players, and she helped Branford reach the state quarterfinals. Her sophomore year she became a starter and started to break school records.  During that season, 11th ranked Branford defeated #1 seed Foran High School in a major upset to win the CIAC Class M State Championship.  This was Branford's first ever state title in a girls' team sport. In her junior year Bethany participated in the US Junior Olympic Volleyball Championships. That year Branford won its first Housatonic League Championship and captured its second straight championship finishing with a perfect 21-0 season. Always a dominating force in the front row, Bethany showed her versatility by setting a school record for digs from the back row.  Her coach Toni Cartisano said of her "there have been tall volleyball players in the state before bury few have been as quick for their size and I'm not sure anyone tall has master every aspect of the game as she has."  In her senior year Bethany was selected co-captain and with her poise and leadership she helped her younger teammates in a tough final stretch.  Branford captured its third state championship with a 3-0 sweep in the finals.  Bethany also collected numerous individual awards.  She was a three time All-State selection, three times Most Valuable Player, and a three time All-Housatonic League selection. Her stats and school records include most successful blocks (137); highest kink average (93%); most passes and highest average (1619/87%); most unreturned hits (632); most digs attempted (303 of 445/68%).  She also received Branford's Sportsmanship, Leadership and Dedication award.
Bethany had a great basketball career.  She helped Branford to two 20-0 seasons and two consecutive CIAC Class L Championships ('83, '84). She was an All-State selection in both her junior and senior  years and as a senior she was also chosen as a Converse All-American and a Parade All-American.
Sought after by no less than 200 schools, Bethany chose to attend Penn State University.  She also played basketball and earned a degree in Education.  Her athletic accomplishments continued.  She scored over 1,000 points (1,186), was top 10 rebounder (857) and atop 10 blocked shots (92).  After graduation, she taught fifth grade and coached girls' basketball in Bellafonte, PA for three years.  She then went back to the  Penn St.  community and a new high school girls' team; she has been there 14 years.
Bethany married Rob Irwin in '95 and her family includes stepchildren Kate, Kristen, Robbie and their young offspring Parick and Kyla.  Bethany is a member of the New England, Branford and Connecticut Basketball Halls of Fame.