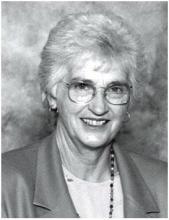 Louise began her volleyball career in the 1960's as a player in the Southern California USVBA league. When Lou came to Connecticut, in 1969 where she and Joan Joyce started the Connecticut Clippers USVBA team.
She started the volleyball program at California State University at Fullerton where she coached the team to a 20-9 record. She left California in '69 to coach at Western Connecticut State University.  In 1970, Lou moved on to Southern Connecticut State University where she posted a 57-8 record. She retired from coaching in 1975 but continued in volleyball as an official.
Lou's role in officiating was multi-faceted. Her talents were well known as she was summarily invited to present at the Eastern Association for Physical and Health for College Women, CAHPERD and NAGWS. Under her direction, SCSU hosted the EAIAW volleyball tournament in '74, '75 and '81. Lou also held the position of assignor for the EAIAW regional tournament in '76 and '77.
She held the position of chairperson of volleyball officials for the Southwest Board in '71-'72. She officiated in the CIAC Volleyball Championships from '69-'74 and the EAIAW regional tournament in 1972.
Having been honored for her many achievements as player, coach and official, Lou is a member of the National Softball Hall of Fame in Oklahoma City, OK.  She is one of the founders of the CT Women's Basketball Hall of Fame. She was inducted into the Northeast Hall of Fame for Women in Sport as well as the CT Women's Basketball hall of Fame. Most recently, she was inducted into the CT Scholastic and Collegiate Softball Hall of Fame and she received the prestigious Katherine Ley Award from Eastern College Athletic Conference.
Louise served from 1985-1988 on the NCAA Council and from 1986-1988 she served on the Committee for Improvement of Women's Officiating.
In 1992, Louise retired from her position as associate athletic director at SCSU.