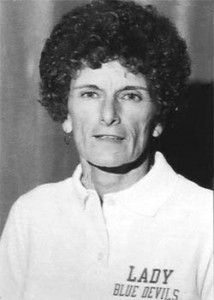 Brenda received her BA and MA in Physical Education from California State University at Los Angeles. She continued her education receiving her Doctorate in Physical Education from Springfield College.
Brenda played on the Connecticut Clippers USVA team from '75-'79.  During that span she also worked as a NAGSW volleyball referee.
She was a member of numerous top-level softball teams including the Raybestos Brakettes.
During her tenure at CCSU, Brenda was the associate athletic director, taught Physical Education, and coached volleyball for 8 years, qualifying for the EIAW Regionals 7 times, softball and was the head women's basketball coach for 25 years. Brenda's coaching experiences apart from CCSU included:
Assistant coach of the 1991 Olympic Sports Festival Women's basketball team;
The Raybestos Brakettes farm team;
Pitching coach for the Italian National softball team;
Coaching the Connecticut Falcons to two women's professional world softball championships;
Coaching women's professional softball team against the People's Republic of China in a seven game series (7-0).
She received numerous awards for her contributions to women's sports in Connecticut. Some include:
2000 Women's Basketball Assoc. Jostens-Berenson Service Award;
1994 induction into the VFW New Britain Sports Hall of Fame (first woman)
1992 Nutmeg Games Living Legend Award
1990 Kodak District I Coach of the Year;
1988 Connecticut Sports Writers' Gold Key Award.
Brenda Reilly was truly an icon in women's sports in Connecticut.