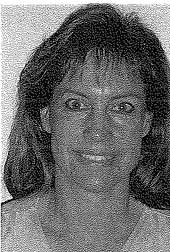 Karen's involvement with volleyball began in 1974 at Maloney High School in Meriden.  Under the watchful eye of Coach Sandy Piantek, she and her teammates won 3 state championships, were runners up once, and were undefeated during the regular season 4 years in a row. Karen attended the University of Connecticut and as a freshman walk-on, she not only got herself a starting varsity position, she also got a scholarship.
Karen began officiating in 1981.  With her knowledge of the game and confident demeanor she was always in demand.  During the 15 years of her career she has officiated countless high school and college games statewide.  Karen has also been selected to referee at the Nutmeg Games, the Connecticut Special Olympics World Games.  She is a member of the Connecticut Board of Volleyball Officials and has served as both secretary and vice president.  Karen has also shared her expertise by serving on the committee to train and evaluate officials.
Today Karen lives in Wallingford with her 2 children Zachary and Rachel.