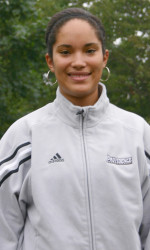 Allison N. Baker
Allison was born in Connecticut but raised in Dallas, Texas and Ft Wayne, Indiana. She spent most of her childhood growing up in Ft Wayne. She was introduced to volleyball in the third grade and began playing club volleyball in fourth grade. While living in Indiana, she had the opportunity to train with elite club programs such Munciana Volleyball Club and Sports Performance Volleyball Club. Her father relocated to Glastonbury, Connecticut in 1998 where she began her high school volleyball career as a Tomahawk under Coach Steve Geryk. She made an immediate impact as a setter for the varsity team and after a few games was named the starter. During her sophomore season she was named team captain, a role she held her remaining three years. Glastonbury quickly became a volleyball powerhouse across the state securing the number one spot in the state polls for many weeks in 2001. Allison led the Tomahawks to the CCC West Conference title all four years and the CCC Conference title against rival Maloney in an exciting five game match in 2001, where she totaled 32 kills. Glastonbury made it to the state semifinal match before their season ended with an impressive 21-2 record.
During her high school career she was a four year all conference team member, the three time Allstate team member, member of the Hartford Courant all Courant team, named the 2001 East Region All-Star MVP, and the 2001-2002 Gatorade player of the year. She spent the off-season playing for Pat Ryan's candidate husky volleyball club on their High Performance team. She joined other top players in the state such as Alesia Vaccari securing the 2002 New England region championship Allison was selected to participate in the USA Junior National High Performance training camp held in Kalamazoo, Michigan in 2001 and named to the USA New England High Performance team which competed in Salt Lake City, Utah in 2002.
After visiting many schools, she committed and signed with the University of Connecticut, before transferring to Providence College after her freshman season. While at Providence, she was a three year starter and named captain her senior year. She was named to numerous all-tournament teams throughout the years and the All-Independent team her senior year. Interestingly, Allison has played every position including club burial at some point during her career.
Allison married her husband Charles, a former member of the Providence College basketball team in 2012 and they are awaiting the arrival of their first baby also due in November. Allison currently works within the juvenile court as a forensic social worker. Her parents and sister were a large part of her success over the years, her father who also played basketball for Providence College passed away in 2010 after a battle with cancer and her mother now resides in Myrtle Beach, South Carolina. Her sister is a prominent high school basketball coach in North Carolina.