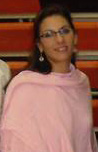 Until her freshman year at Amity High School in 1987, Mia Malafronte played basketball and softball and in the fall was a field hockey player. Her parents wanted her to try volleyball so she made a deal with them. She would attend a two week summer camp with CT Volleyball Hall of Fame member Kathy Symonds with the understanding that if she did not like volleyball, she would to not have to play. She fell in love with volleyball and the rest, as they say, is history.
Mia was a varsity outside hitter her sophomore year. That year her team was undefeated going into the State Championship Finals but lost a heart breaker to Maloney – 3 games to 2. The underclassmen vowed to never lose a match again. Her junior year, they defeated Maloney in the State Final and completed an undefeated season. In her senior year, they lost only two games the entire season and both were in the same match to Fitch High School. They met Fitch again, this time in the State Championship match, and won three games to none. They honored their vow and during her three year varsity career, her team was 65 and 1. Mia then played intercollegiate volley-ball for Albertus Magnus.
Mia's awards and honors are too numerous to mention but include being a member of the 1989-90 Jr. Olympic Team Champions in the Nutmeg State Games. She was named to both the 1st Team All-Housatonic and 1st Team All-State Volleyball teams and was inducted into the Amity Athletic Hall of Fame. She was the Head Coach of the French American School of New York and presently is both the Assistant Head Coach and Junior Varsity Coach at Amity High School.