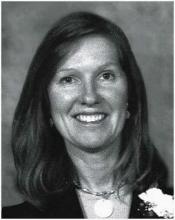 April's involvement with sports can best be described as long and varied. In the Fall of 1973 she started schools at Foran, Milford's new high school. A versatile and dedicated athlete, April excelled at every sport she played.  While at Foran she was a three sport athlete, her outstanding play and winning attitude earned her letters each year in volleyball, basketball and softball. Although there were no all-star teams for volleyball in the early 70's, April was a standout for hall of fame coach Edna Fraser and her team.  She was a quick and aggressive left-handed hitter suing her height and skill to her advantage. She could power or finesse the ball past her opponents and was a very efficient blocker. In 1975 she was instrumental in helping 5th ranked Foran defeat Sheehan to win the CIAC Class M State Championship. She was also a standout in basketball and softball. She was selected as captain of both teams and as a senior she was selected to the All-State basketball team.  She played first base and pitcher for the Diamonds and the Raybestos Robins amateur softball teams.
In 1974, April was introduced to a European sport called team handball in her physical education class. It would prove to be a life-changing event. She liked it so much she joined a club team and at a tournament was asked to try out for the US National team. Competing against women 5 eyars her senior, sixteen year old April was selected as one of the 20 players chosen to represent the United States. Over the next six years, she competed all over the world, including Iceland, Yugoslavia, Norway and Sweden. In 1975 she gave up a trip to Russia so she could compete with her high school team in the CIAC Volleyball Championships. After graduation, April received a basketball scholarship to the University of Wisconsin-Madison, no small feat as there were not many scholarships for women's athletics then. She also played JV and varsity volleyball as a walk-on. In the summer of 1979, April lived and trained at the Olympics Training Center. Then as a result of the '80 Olympic boycott, she returned to school and finished her degree, receiving a BA in English.
In 1992, April started her family. She has two children, Eric (16) and Emily (13). She is presently teaching social skills as a special education teacher at Foundation High School in Milford. April is still active and plays tennis, sails, rides her bike, plays golf, travels and enjoys outdoor activities with her family. Recently she took up the sports of sailing and crew and looks forward to competing in these sports with her soulmate, Tim Morgan. One of April's life goals is to land her feet on all seven continents and with her sense of adventure and wonder about the world, we bet she will.