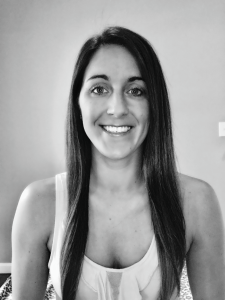 Maite started every match for Bunnell High School for four years, 2003-2006. In that time the Lady-Bulldogs amassed a 95-5 record with three State Championships and three Southwest Conference Championships. After hitting middle her first two years, Maite was all-state stand out on the left side in her junior year and then was effective as a right side hitter in her senior year. Her career totals include 1074 kills, 122 aces, and 460 digs and 175 blocks.
In her sophomore year, Maite earned First Team All-SWC with her team winning the Class LL State Championship, defeating Cheshire High School in the finals. As a junior and senior, Maite was named First Team All-State, First Team All-SWC, and the CT Post, New Haven Register and Hartford Courant All-Area Team. Maite helped lead Bunnell to two #1 rankings in the state in 2004 and 2006.
In her senior year, Bunnell finished with a 25-0 record winning every match 3-0, never allowing a team to reach 20 points. Bunnell defeated Shelton in the Class "LL" State Championship for the second year in a row. Her play earned her the 2006 SWC tournament MVP by the attending coaches.
While playing high school volleyball, Maite was also part of the 2005 and 2006 New England Regional Champions. The 18- I Connecticut Juniors travel team consisted of elite players in the state. During her senior year, they were named 2007 #1 ranked team in the region. Maite graduated from Central Connecticut State University where she played volleyball on scholarship. She earned her bachelor's degree in Physical Education and Health Promotion from CCSU. Maite went on to become the assistant volleyball coach at the University of New Haven while pursuing a Master's Degree in Sports Management. While at UNH, the team won two Northeast-IO Tournament Championships, earned a trip to the 2013 NCAA Division Il Sweet 16, and in 2012 played in the NCAA Division Il Elite 8 .
Currently, Maite is teaching Physical Education in Derby, CT. She is in her fifth season as head volleyball coach at her alma mater, Bunnell High School.