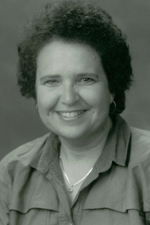 Toni attended Southern Connecticut State College from 1967-71. After graduation she was hired by the Branford School System to teach physical education at Branford High School, and she also became the volleyball coach. Toni's volleyball coaching career did not startout on  a very high note; that first year her team finished the season 0-14. The second year produced a more promising 10-5 record and, from that point on, there was not going back.  In her 20-year career, Toni has had only four losing seasons.
There have been many accomplishments in Toni's career.  Her teams have qualified for the state tournament every year but one.  Branford appeared in five CIAC Class M State Finals, winning the championship three years in a row from '81-'83 and finishing runner up in '84 and '88. In 1982, in addition to winning the state championship, her team completed an undefeated season and won the Housatonic League Championship. Toni was named CIAC State Volleyball Coach of the Year in 1984, and she has been nominated as National Coach of the Year twice. She has coached numerous all-league and all-state players many have gone on to play in college, and a few have become coaches themselves. Toni was active in the Connecticut Junior Olympics program. She coached the team that won the tournament and the right to represent Connecticut in the Junior Olympics in Chicago, Illinois. Toni served on the CIAC volleyball committee from 1983-'86.  She is one of the founding members of the Housatonic League and a founding member of the Connecticut Scholastic Women's Volleyball Hall of Fame.
Toni retired from teaching this past June, but will continue to work with the young people at Branford High, supervising two clubs and producing the theatrical productions there.