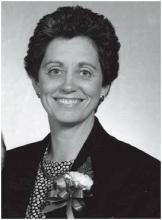 Marge's interest in sports began when she was a young girl. It started with her playing with her siblings, then competing at the high school level and then in college.  She attended Southern Connecticut State College from 1970-74, where she majored in Physical Education and played volleyball, basketball and softball.  In 1976, marge was hired as a physical education teacher and as head volleyball coach at North Haven High School.  Her enthusiasm, competitiveness and extensive knowledge contributed to her success as a coach.  She produced teams that were aggressive, disciplined and highly motivated.  North Haven qualified for post-season play regularly.  In 1979, just three years after Marge took over at North Haven, they not only qualified for the state tournament, they won the Class M State Championship.  Then in 1980, they repeated their success and won a second championship.
Marge also coached basketball and softball at North Haven and she was instrumental in establishing the North Haven High School Sports Hall of Fame.  Many of the athletes Marge coached continued to play volleyball in college and a few have become coaches.
Over the years, Marge has given a lot of her time to volleyball.  She has served on the CIAC volleyball committee for the last 28 years and she has be the CIAC State Volleyball Tournament director for the last eight.  She also served as Region I representative to the National Federation of High Schools' Volleyball Rules Committee in the late 80's.
Marge has been honored for her many contributions to sports and the athletes that play them.  In 1993, she was inducted into the Northeast Agenda Women's Sports Hall of Fame for her contributions to the promotion of women in sports.
Today Marge is still serving the students and athletes at North Haven High School where she has been the Director of Athletics since 1993.