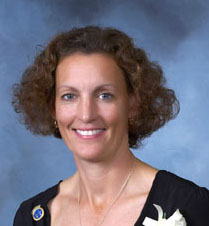 Gail coached at Bristol Eastern High School from 1982 until 2005. During those 23 years, her record was 332 – 139. Also during those 23 years, they qualified for the state tournament 21 times.
Bristol Eastern won 15 league championships and played in the state championship finals six times and won 3 state championships during her tenure.
In 1990, Gail was named the Connecticut High School Coaches Association's Outstanding Coach and in 1996 and 2000 she was the National High School Athletic Coaches Association's Regional Coach of the Year finalist.
Off the court, Gail has served as the CIAC State Tournament Committee for 21 years and was a founder of the Senior All-Star game. She was the chairman of the CHSCA all-state selection committee and co-chair the national volleyball clinic in 1996 and 2002.