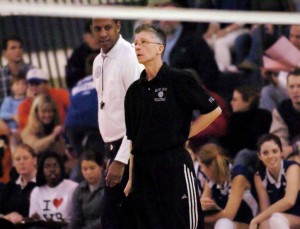 Laurie graduated from Indiana University and received her graduate degree from Sacred Hart University. she taught at the elementary and middle school levels and now teaches at Darien High School.
Laurie started coaching volleyball at Darien in 1982. Since then her teams have won 21  FCIAC League Championships and 15 State Championships.  They had 11 undefeated seasons with winning streaks of 121 and 140 consecutive matches- the latter is the 8th longest in high school athletics. They were also named the #1 team in the Connecticut final coaches poll 9 times.  Her career record is now 583-81.
Her players included 65 first team all-league, 28 all-state, 15 most valuable players, four Gatorade Players of the Year and one All-American.
Laurie has been honored as the girls' volleyball coach fourteen times. Her honors include FCIAC League Coach of the Year, Connecticut High School Coaches Assoc. Coach of the Year and National High School Coaches Assoc. Coach of the Year.
Laurie has also been inducted into the FCIAC Hall of Fame and the Connecticut Coaches Hall of Fame.