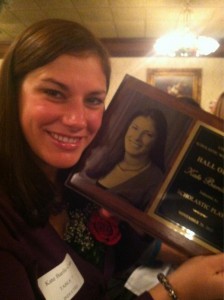 Katie played at the Morgan School in Clinton from 1995-98.
In her first year, Kate was a conference and state champion. In fact, for all four of her high school years, Kate's team was conference and state champions.
In Kate's junior year, she was named 2nd team all-state and a Shoreline Conference Scholar Athlete.
Named captain in her senior year, she led her team back to the state finals. She averaged 18 kills per match during the regular season. Then throughout the tournament she averaged 30 kills per match. She was named Most Valuable Player of the Class S Tournament. The New Haven Register named her both Most Valuable Player and to the All-Area Volleyball Team and Connecticut High School Coaches Assoc. also named her to the All-State team.
Kate finished her high school career with an 82-2 record, four conference championships and four state championships. She went on to play that the University of New Haven where she again distinguished herself as an outstanding volleyball player.