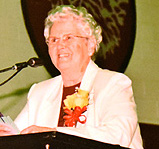 Jean graduated from Boston University and UCONN.  She began her teaching and coaching career in 1952 at Litchfield High School where she coached soccer, basketball, field hockey and cheerleading. She left that position to continue her career at Farmington High School where she coached from 1957 until 1981. While at Farmington, Jean distinguished herself as an accomplished volleyball coach from 1965-1974. During that time her teams accumulated a record of 73-3. There were undefeated in regular season and regional competition.
There were the CIAC State Champions consecutively from 1966-1972. There were also runners-up in 1974.
Jean also coached badminton, basketball, field hockey, softball and track and field at Farmington where she led her teams to 11 state championships, 8 conference championships and 19 undefeated seasons.
In 1967, her field hockey, badminton, basketball and volleyball teams were all undefeated and that year the badminton and volleyball teams took home state championships. Her overall record is 509-139 with 44 ties.   She has received numerous awards for her work in coaching and teaching. Most recently she was honored by the National of Girls and Women in Sport and was name a Project Acclaim Mentor.
Collinsville Press (obituary)