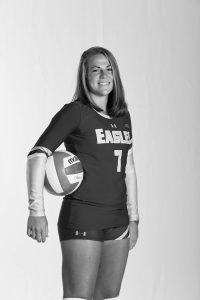 Devon played Libero for the Farmington High School volleyball team for four seasons, winning the Class L State Championship in 2014. She also played for the Husky Volleyball Club and won the 18's NERVA Championship in 2015.
As a multi-sport athlete, she also won two Class L State Championships in the Javelin throw and threw for a 4th Place finish at the New England Open in 2015. She also holds the current Farmington HS School record in the event. Following high school, Devon walked on to the Boston College Varsity volleyball team which competes in the Power-5 conference. Starting as the Libero by the end of her Freshman year, Devon also achieved ACC-academic honors each season on the team. During her junior and senior years, she played for the Boston College Women's Club Volleyball team, earning 9th and 3rd place finishes at NCVF Nationals.
In reflecting on my high school volleyball career, I can recognize the truly exceptional group of athletes we had on our team at Farmington High School. Especially during my junior and senior years, when every player on the court exhibited an unstoppable desire to compete, challenge themselves, each other and win. Particularly my classmates and fellow captains, Sophie Borg, Abby Arena and Sarah Lipinski who each played a huge role in leading our team to a State Championship. They pushed through every sprint, timed mile, practice, point and match, inspiring all others in the gym. I am fortunate to call them lifelong friends, along with so many others I have met through this sport, whether teammates, coaches, or opponents.
Additionally, I could never have accomplished as much in this sport if it was not for the support I received from Coach Arena along the way. Under her direction we learned to believe and reach beyond our limits, allow our failures to fuel our victories, and most of all trust one another. These lessons she instilled in high school have rung true in the years since, as I am sure they have played a part in my collegiate and professional success as well as that of my teammates.
Outside of athletics, Devon is pursuing a career in law. She is set to graduate from the UConn School of Law and sits for the Connecticut bar exam this Winter.