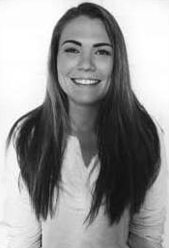 Madison McCaffery played at Ludlowe in Fairfield from 2007-2010. She also played basketball and lacrosse but decided in her junior year to play on a travel volleyball team and concentrate on volleyball. Concentrating on volleyball cer-tainly paid off as Madison became the captain of her team. In both her junior and senior year, Ludlowe was the runner up in not only their FCIAC Confer-ence – but also in Class LL state tournament as well.
Madison had an outstanding high school career. She finished her career with 107 career aces, 92 career blocks, 471 career digs, and 603 career kills – a Lud-lowe school record. She was recognized many times for her hard work and ac-complishments. In 2010, she was named the "Blue Streak" Player of the week and the month in her conference. She was also awarded the Most Valuable Player for the Ludlowe team and was named to the First Team All-Conference squad. Also in her senior year, she played in one of her most memorable matches. It was the semi-finals of the state tournament. Ludlowe was playing Mercy High School. It was a tight match throughout and Ludlowe was up 2 sets to 1. Madison remembers a few bad passes late in the third set which could have led them to fall apart mentally, but they stuck together as a team and were able to fight through and eventually win 3 to 2. Ludlowe finished runner up that year but Madison was named the 2010 Most Valuable Player in the State Tour-nament and was named to the Class LL First Team All-State.
In addition, Madison was named to the Senior All-Star Game by the Connecti-cut High School Coaches Association and was the 2010 Gatorade Volleyball Player of the Year for Connecticut.
Madison continued playing club volleyball at the University of Delaware. In her junior and senior year, she was president of the club.
http://www.gatorade.com/poy/assets/writable/12266/2010-11_VB_MMccaffery.pdf