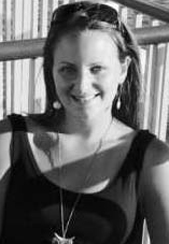 Lisa first played organized volleyball in high school at Greenhills School in Ann Arbor, Michigan. She was a four year varsity player and also played varsity softball and basket-ball. After graduation, Lisa played volleyball for Wesleyan University from 2005 through 2008.
While at Wesleyan, Lisa's teams had four straight winning seasons with an overall record of 73 and 36. Lisa played a major role in their success. As a hitter, she ranked third na-tionally in Division III for kills per set as a senior while also leading the NESCAC for the third year in a row. Lisa was ranked among the top five nationally in Division III in 2006, 2007 and 2008. Over her four years, she amassed 1,865 kills to rank second all-time at Wesleyan. Her average of 4.92 kills per set is tops among all Wesleyan players. She also averaged 2.73 digs, 0.68 blocks and 0.46 aces per set with an outstanding .298 hitting efficiency over her four years.
Lisa finished her career with her second NESCAC Player of the Year honor and was named to her third straight first-team All-NESCAC. Lisa also became Wesleyan's first American Volleyball Coaches Association (AVCA) Second-Team Division III All-American. She had achieved honorable-mention All-America status from the AVCA as a junior and was the only player from a New England college to receive higher than honor-able-mention recognition from AVCA in 2008. In short, Lisa completed her four-year women's volleyball career as the most decorated player in the 25-year varsity history of the sport at Wesleyan.
Excelling in the classroom as well, Lisa earned District I First-Team Academic All-America honors from the College Sports Information Directors of America, or CoSIDA , and went on to received second-team national honors from CoSIDA, which was the high-est level of achievement ever by a Wesleyan volleyball player. In her senior year, Lisa was Wesleyan's Hoagland Award winner as well, signifying the outstanding contributor to women's athletics at the college.
After graduating from Wesleyan, Lisa continued her playing career when she signed a professional contract and played one year of professional volleyball with the Brøndby Volleyball Klub in Denmark.
Lisa has just graduated from the Institute for Integrative Nutrition as a holistic nutrition coach. A month before graduating from the program, Lisa joined the Institute for Integra-tive Nutrition staff as Curriculum Developer for the school. Lisa is passionate about health and wellness, and "walking the talk" to inspire others to live an authentically crea-tive and joyful life!