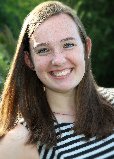 Tessa Smolinski played scholastically at RHAM High School, where she was the school's Scholar Athlete-of-the-Year as a senior. She became the program's first Gatorade Connecticut Volleyball Player-of-the-Year when she led the Sachems to an undefeated season and a third straight Class "M" state championship. Smolinski was a two-time Most Valuable Player of the state title match and a two-time first-team Class "M" All-Stater.
After high school, Tessa attended Springfield College where she participated in four NCAA Division III tournaments and won two New England Women's and Men's Athletic Conference (NEWMAC) post-season tournaments. She had a career 1556 kills and 1355 digs while at Springfield. As a senior, she was chosen as the NEWMAC Player-of-the-Year, and repeated as a second-team AVCA All-American. She is also the recipient of the NCAA Elite 89 Award, which is presented to the player at the national championships with the highest GPA, as she graduated with a 3.99 GPA.
Smolinski is an experienced clinician at various volleyball camps and clinics. She is now an assistant coach under Megan Silver-Droesch at the University of Connecticut, while pursuing a Doctorate in Audiology at the University.