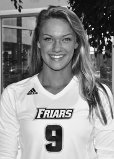 Marina Rose attended Coventry High School where she earned three varsity letters in track and field and four varsity letters in basketball and volleyball.
Marina's greatest accomplishments were earned playing volleyball. She was named captain of the volleyball team in both her junior and senior year. During her four years on the team, Coventry won four consecutive Class S State Championships. In those championships, she was named the Most Valuable Player in three of the four state championship matches.
In 2013, Marina was named the Gatorade Connecticut Player of the Year, as well as the MaxPreps Small Schools High School Volleyball Player of the Year. Marina now attends Providence College and is a junior. She plays on the volleyball team and this year she earned the title of captain.
Marina studies Health Policy and Management at Providence College and wants to pursue medicine after her years at Providence to become an Obstetrician. Her younger sister, Emma is currently playing volleyball at Iona College and is a freshman. Marina loves to play beach volleyball doubles with Emma and enjoys coaching when she can.