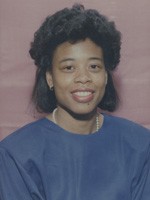 Marcia began her volleyball experience while at Westhill High School where she not only competed in volleyball, but basketball and track and field as well. She captained all three teams in her senior year. She achieved all-city and all-county honors for volleyball while at Westhill.  She graduated in 1978.
Marcia then moved on and continued her education and volleyball career playing for coach Debbie Chin at the University of New Haven from 1978 through 1982. She was a four-year starter and a co-captain during her senior year.  She continually led the team in kills and blocks. While competing at UNH, her team earned a 118-61 record. During her freshman year, the team qualified for the quarterfinals of the EAIAW tournament. They continued to qualify for the tournament throughout Marcia's following three seasons.
The University of New Haven inducted Marcia into their Hall of Fame for both volleyball and basketball.
After UNH, Marcia continued her education at the University of Bridgeport where she earned her MS in Education.
Marcia returned to her high school alma mater to coach volleyball, basketball and track and field. Her career record with her volleyball team at Westhill was an impressive 118-91. The team made numerous trips to the CIAC state tournament, many times advancing to the quarterfinals.
She has sat on various committees and has received numerous service awards. She is presently a police officer with the Stratford Police Department.