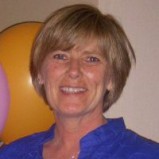 Marie Lavin began her volleyball officiating career in 1987. Only four years later, in 1991, she officiated her first state tournament final.
Since then, Marie has officiated many matches and fourteen state tournament finals. In her incredible career, she also in one season officiated four state finals, two for girls volleyball and two for boys volleyball.
Marie has served her fellow officials as well. She served as President of the Connecticut Federation of Volleyball Officials from 2004 until 2008. Since 2008, she has served as the Assigning Coordinator for CFVO as well as serving on the Connecticut State Board of Volleyball Officials as secretary for four years and as President of the Board for two years. In addition she has recently served as the Boys Volleyball State Tournament Assigner for 2014 and 2015.