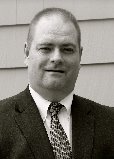 Richard Heitz has said he always loved the sport of volleyball since first being introduced to it in middle school. Unfortunately, there were no boys' volleyball programs when he attended Pomperaug High School and he had to wait until the age of eighteen to play for his church team in a power league in Oxford, CT.
Richard played competitively on various club teams and in tournaments in the area until he began coaching as an assistant coach under Deb O'Brien at Wethersfield High School in 1994. He coached the Junior Varsity until 2001 when he took the head coaching position at Southington High School. Entering this 2015 fall season, he will have coached at Southington for fourteen years with an overall record of 236-72.
Richard's teams at Southington won 9 consecutive divisional titles from 2004 – 2012. They were also CCC Tournament champions in 2008 and 2010, as well as state champions in 2009 and state runners-up in 2011. His teams have been recognized many times including twelve times by the American Volleyball Coaches Association with the Team Academic Award, as well as four times by the Connecticut Board of Volleyball Officials (CBVO) with their annual sportsmanship award in 2002, 2003, 2006 and 2010.
Richard has been recognized as well for the accomplishments of his teams. In 2014, he was named the Connecticut High School Coaches Association's Coach of the year. In 2015, he was a Finalist for National High School Coach of the Year in Volleyball, recognized at NHSACA annual convention in Rochester, MN.
Richard has given back much to the sport of volleyball having served for twelve years as a member of the Connecticut Interscholastic Athletic Conference Girls' Volleyball Committee, and served as chairman for six of those years. He also spent 10 years as a member of the CHSCA Senior All-Star Game Committee, and was selected as head coach in the game in 2007. He has served the sport regionally and nationally as well, serving on the Girls' Volleyball All-American Committee for Region 1 (covering New England and New York State) and for three years as a board member for the American Volleyball Coaches Association (AVCA).
Southington Observer: Rising to great Heitz: Lady Knight coach inducted into CT volleyball hall of fame