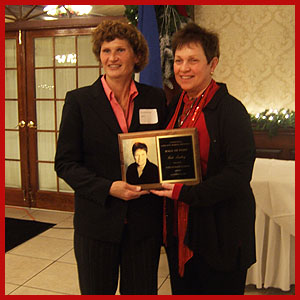 Currently in her 33rd year at Wesleyan University, Gale Lackey will complete her 26th season as the Head Coach of the Cardinal Volleyball team in 2010. Gale has compiled a 429-334 mark over 25 seasons at Wesleyan. Gale joined the Wesleyan staff in 1978 after spending a year coaching volleyball at the University of Bridgeport. With 13 wins there, Gale has 442 victories in her volleyball college coaching career as of the 2009 season, which ranks among the national leaders in Division III and ranks her as the second all-time winning coach in the history of Wesleyan University Athletics.
Prior to her stint at the University of Bridgeport, Gale coached girl's volleyball for seven years at Spring Grove High School in York County, Pennsylvania, an area of Pennsylvania with a long and impressive volleyball tradition. In four of her seven seasons at Spring Grove, Gale's teams were Western Division Champs and played for the prestigious York County Championships. She coached members of her high school squad at the Girls' Junior National Tournament in Chicago in 1977, after her team won the Middle Atlantic Regional Championship that spring.
Gale is a 1970 graduate of West Chester University in Pennsylvania with a B.S. in Health and Physical Education and earned her M. ED degree there, as well. At Wesleyan University, Gale's team won the coveted Little Three Championship in 1992 with wins over Williams College and Amherst College. At Wesleyan she has coached seven All-Americans, one NESCAC Rookie of the Year, one NESCAC Defensive Player of the Year and three NESCAC Players of the Year. She was named 2001 NESCAC Coach of the Year after guiding her squad to a 30-6 record, a NESCAC Regular -season Championship with a 9-1 mark, and an invitation to the NCAA Division III tournament. Gale also coached her 2000 squad to an ECAC North Region Division III Championship. In between the 2000 and 2001 seasons, Gale arranged for her squad to take a memorable trip to Cuba during the winter break in January 2001. There, her team competed against a Cuban Junior National team in Havana. Her Wesleyan teams are consistently presented with the American Volleyball Coaches Association's "Team Academic Award," which requires a Team Cumulative GPA of 3.4 or higher. Gale has mentored and given free volleyball clinics to residents and students at the Children's Home of Cromwell. She has given free clinics to underprivileged girls in the Cape Henlopen, DE area. Gale provided volleyball instruction in the Cape Town region of South Africa during a People to People Sports Exchange tour in 1997. She served as a Deputy Commissioner of Volleyball for the Special Olympics World Games in New Haven in 1995, scheduling over 150 contests over the course of that competition.
Gale, who holds the rank of Adjunct Professor of Physical Education and Feminist and Gender Studies at the University, teaches a fencing class and a course entitled "Gender and Sport." Gale served as Head Coach of Field Hockey from 1978 to 1984, be-fore taking over the volleyball helm in 1985. She was also the Head Coach of Women's Lacrosse at Wesleyan from 1979 to 1997. She is the athletic department's Senior Woman Administrator and Associate Director of Athletics. Gale earned Stage I International Coaching Certification from the FIVB at Texas A&M in 1978.