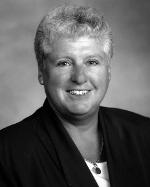 Pinky was educated at Keene State where she earned her bachelor's degree in 1965. She continued her education at Cortland St. where she earned her MS in Physical Education in 1971.
Her tenure at ECSU began in 1971 after coaching and teaching on the high school level in Michigan and New York for 5 years. She was selected to coach volleyball in the Fall of 1975 beginning a 22-year tenure. This was only the second women's intercollegiate team at the institution following the formation of women's basketball in 1971.
In her 22 years as volleyball coach at ECSU, Pinky racked up 616 wins with only 295 losses for a winning percentage of 67.6. Her teams competed in post season tournaments every season beginning in 1977. Eastern qualified 11 times in the 16-year history of the NCAA Division III tournament, earning bids in each of her final four seasons.  Pinky's Warriors were also named to five ECAC tournaments, winning the title in its first two tries in 1985 and 1988. Under Pinky, Eastern won 22 invitational tournaments, placed second 28 times and was third on 24 occasions and had consolation victories four times. Eleven times the Warriors won at least 40 matches.
Since the introduction of regional and national honors in 1986, Pinky has coached 2 All-Americans, 18 all-region picks and 25 all-New England athletes.
Pinky was named the 1995 New England Region Coach of the Year. She served as chairperson of the NCAA Division III New England Regional Advisory Committee since its inception and was on the American Volleyball Coaches' Association All-American Committee.  In large measure, through Pinky's efforts, the New England area was awarded its own NCAA region in 1994, providing the area with increased representation in NCAA Division III tournaments.
She retired from ECSU in July of 1997 holding the distinction as winningest coach in the history of New England Collegiate women's volleyball.