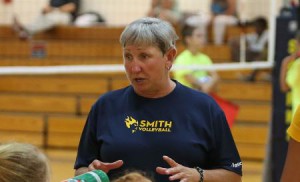 Fran graduated from Bulkeley High School in Hartford and from Southern Connecticut State University, where she captained the Owls' volleyball team. Formerly the head volleyball coach at Lewis Mills High School, Connecticut College and St. Joseph College, she is presently the head coach of the volleyball and softball teams at Trinity College.
Fran is well-known in Connecticut for her 23 years of volleyball officiating. She has officiated the CIAC girls' and boys' state championships in all divisions. On the college level, she has been officiating NCAA games including as a referee in the Women's Division II final game in 1996 and 1997 and at the Men's Division I Final Four as a line judge in 1995. Her other notable refereeing experience include the 1998 Nike World Master's games in Portland, Oregon.
She has been a member of the A.B.O.  National Rating Team (NRT) which rates candidates going for a national rating as well as the ABO National Training Team. working to train volleyball officials. Fran has worked as a high school and collegiate assigner for schools in Connecticut. Her other assigning duties have been as the America East assignor in 1996 and the 1995 Spacial Olympics World Games deputy commissioner for volleyball officials.