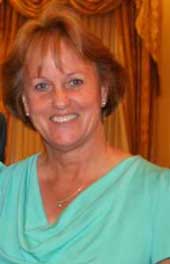 Priscilla played volleyball at Staples High School from 1971-1973. In these early days of women's athletics there was no state tournament or All-Star team but Priscilla's athletic ability and volleyball skills would not go unnoticed. She was an outstanding player and team leader and was selected as team co-captain in 1973.
Priscilla attended Southern Connecticut State College where she continued playing volleyball for Coach Lou Albrecht and then for Coach Joan Barbarich. It was at Southern that Priscilla's abilities as a setter emerged. As her skills sharpened in this position, she gain confidence and experience is the team's playmaker. In her senior year she was selected as team captain and she was also chosen as the team's Most Outstanding Player. In 1977 Priscilla and her teammates qualified for the regional tournament with a 15-6 record. The team made an excellent showing losing in the regional semifinals. Priscilla's years at Southern are full of memories not only of great matches, but also great teammates. She shared the floor with players like Lynn Spagnesi, Cindy Opalski, and Fran VanDermeer, to name a few.
After graduating from Southern, Priscilla was hired as a physical education/special education teacher at New Canaan High School where she still teaches today. She coached volleyball there from 1978-2002. Continuing to achieve success as a coach Priscilla was selected as the Connecticut High School Volleyball Coach of the Year 1999-2000. She has also been selected to coach the Connecticut High School All-Star game twice (1991 and 2002). She has been serving as the FCIAC volleyball chairperson since 1999.
Priscilla has been married to Dave Schulz for 27 years. They have two daughters who are carrying on the family athletic legacy. Kerry is a former all-state volleyball and tennis player who is currently captain of the Providence College tennis team and Kristin a former all-state field hockey player and currently a field hockey player at the College of the Holy Cross.