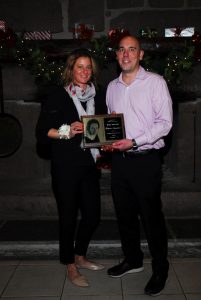 Despina Soennichsen (nee Morris) played volleyball for Amity High School and continued her career at UCONN, winning a Big East Championship in her sophomore year. In her 4 years at Amity, the team had a regular season record of 70-2. After losing in the Class L finals in Despina's sophomore year, Amity went on to win the Class L title in her junior & senior years.
While at Amity, Despina was named All-SCC her junior and senior years. In her senior year, Despina was also named to the New Haven Register All-Area team, and awarded All State honors after tallying 198 kills, 91.4 service percentage, and was a dominant middle blocker for a team that did not drop a single game until the state finals, where they knocked off Southington 3-1.
Despina credits much of her success to Cathy Simmons, who was her older brother's high school coach at Amity at the time. She believed in and encouraged Despina to play at a young age when no other younger kids were playing, and allowed Despina to participate in camps and programs meant for older players.
Additionally, Despina would like to thank Nell-Ann Lynch (nee Aloi), and Paul Thees. Nell was the Amity JV coach at the time, and as a former UCONN player herself, gave Despina the confidence and encouragement to pursue her volleyball career at the collegiate level. As the head coach at Amity, Paul Thees oversaw the team to much of its success.
Directly from college, Despina was hired as the assistant coach at Quinnipiac University and also started coaching for Connecticut Juniors Volleyball. She continued to play volleyball at the CT Sports Center in Woodbridge, where she met her future husband, Ryan.
Despina was also a stand our basketball player at Amity, named captain her senior year.
Currently, Despina is a special education paraprofessional in the Wilton school system, and still coaches for Connecticut Juniors Volleyball when her schedule allows.