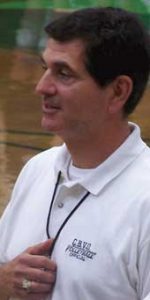 Fred has been involved with the sport of volleyball for 27 years. He started the volleyball program at Ellington High School in 1979. Back in those early days of emerging girls' athletics there was no assistant coach and Fred ran both the JV and varsity programs himself for 10 years. The girls were forced to wear old boys' basketball shorts and strap type shirts. In spite of these hardships, Fred developed Ellington into one of the top volleyball programs in the state. His 25 year record is 299-176. Under Fred's leadership Ellington won 7 conference championship, they qualified for the CIAC state tournament 18 times, reached the semifinals three times and were state runner-up once. Fred coached many outstanding players in his career. Eighteen of his former players went on to play in college and at least 15 have been involved as coaches ensuring that his legacy in volleyball will continue. In 1999 Fred was honored by the Connecticut High School Coaches Association as the Volleyball Coach of the Year.
Fred has also been active on the organizational level of volleyball. He served on the CIAC state committee for nine years and as a chairperson of the State Volleyball Association for six years. Along with John Fontana, Fred initiated the first, and has been responsible for all subsequent, volleyball all- state awards and banquets. He was involved with the first Connecticut Volleyball Senior All-Star game selection committee and he also selected as coach one year.
During the last 15 years Fred has been a volleyball official for the Connecticut Volleyball Board of Officials (CBVO) working high school girls' and boys' games as well as prep schools. For the past two years he has officiated at the Baystate Games, has coached and officiated at the Connecticut Nutmeg Games. He has also officiated at both the Special Olympics and Unified Games. Fred currently is chairperson of the CBVO. He is also involved with adult volleyball leagues in town trying to increase community awareness of the skill, recreation and fun of the game.
Hartford Courant: Colosimo Evolves Into An Expert