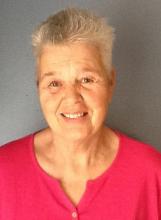 Linda Hamm from SCSU with a degree in Health, Physical Education and Recreation in 1968. Upon graduation, she began her long and esteemed teaching and coaching career at Lewis Mills High School in Burlington.
She was the varsity volleyball coach from 1968-79 where she amassed a 142-53 record. During that time, her teams were Northwest Champions nine times.
In 1980 she took the position as head coach at Yale University. In 1981-83, she was the assistant coach at the University of New Haven. Then in 1984 she moved on to become head coach at CCSU.
Most recently, she started and coached the boys' volleyball team at Lewis Mills in 1997-98.
Linda received her National Volleyball Officials' rating in 1970 and continued in the capacity until 1975. She served as chairperson for the Connecticut volleyball officials from 1974-77. She was a member of the selection committee for the USVA All-American team from 1981-88. She has also been a past member of the Connecticut Board of Volleyball Officials.
As a player, Linda competed from 196901987 with the Connecticut Clippers.  She played in nine national tournaments in the open team- A Division. She also competed with two A Division Master's teams.
She was the CHSCA Volleyball Coach of the Year in 1976.