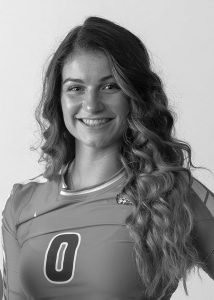 Brianna found volleyball first at Chippens Hill Middle School in Bristol when she was only 13. Playing 3 years of volleyball in middle school gave her the courage to attend camps the summer before her freshman year in high school where she so badly just wanted to make the JV team. Her very first game ever on the high school court, was the first game of the season her freshman year as a starting setter for the Varsity team. She remained in that spot for the next 4 years.
During her reign at BEHS, Brianna was a three-time All-CCC South and two-time All-State Performer. Three out of her four high school years that were documented on Max Preps amassed 223 sets played, averaging 9 assists per set, 1997 total assists, 137 aces, 462 digs and 120 kills. BEHS took home a pair of CCC Tournament titles during her tenure and in 2012, Bristol Eastern High School won the Class L State Championship. It was this moment that made Brianna realize she wanted to play this sport in college. For the next three years, Brianna played volleyball at school in-season and played for Connecticut Juniors in the off-season.
Her collegiate career was even better. Brianna moved on to Post University, where she continued her volleyball career and her studies in Sport Management and Communication and Media Studies. Brianna accumulated a program record 4,753 assists, including 1,092 in her senior season. She tallied 1,314 assists as a freshman, 1,226 as a sophomore, and 1,121 as a junior. Despite being a setter, her defensive presence was also felt on the court where she had a career 1301 digs at Post. She earned two trips to the NCAA Division II East Region Tournament, was CACC and ECAC Rookie of the Year in 2015, then claimed DII CCA East Region Second Team as a sophomore. She was a First Team All-CACC selection in her freshman, sophomore and junior seasons, then was Second Team All-CACC as a senior.
Brianna sits in the CACC Tournament record books holding the 1st and 3rd spots for most assists ever recorded in a CACC tournament game: 67 total against Wilmington U on 11/20/15 and 59 against Georgian Court U 11/14/17. She also holds the 3rd place spot for most assists per CACC tournament at 144 in 2015. In regular season CACC play she holds the 4th place spot for assists per set in a season at 10.95 in 2016 and 8th place for career assists in a season at 1,314 in 2015.
She was nominated in 2019 for the prestigious NCAA Woman of the Year award.
She just wasn't ready to stop after her four years of college volleyball, so she jumped at the opportunity to attend the University of Essex in Colchester, England to be able to continue playing volleyball while earning her Master's Degree in Management. Her run at a professional career was cut short by COVID and she now resides in Oklahoma working for a baseball organization, the Tulsa Drillers, a double A affiliate of the LA Dodgers.
With her busy work schedule, she is currently working on a 2nd master's degree and she still makes time to help kids learn the sport of volleyball and continues to play. Coaching is likely in her near future!